Ridgetown, Windsor businesses pack stories and art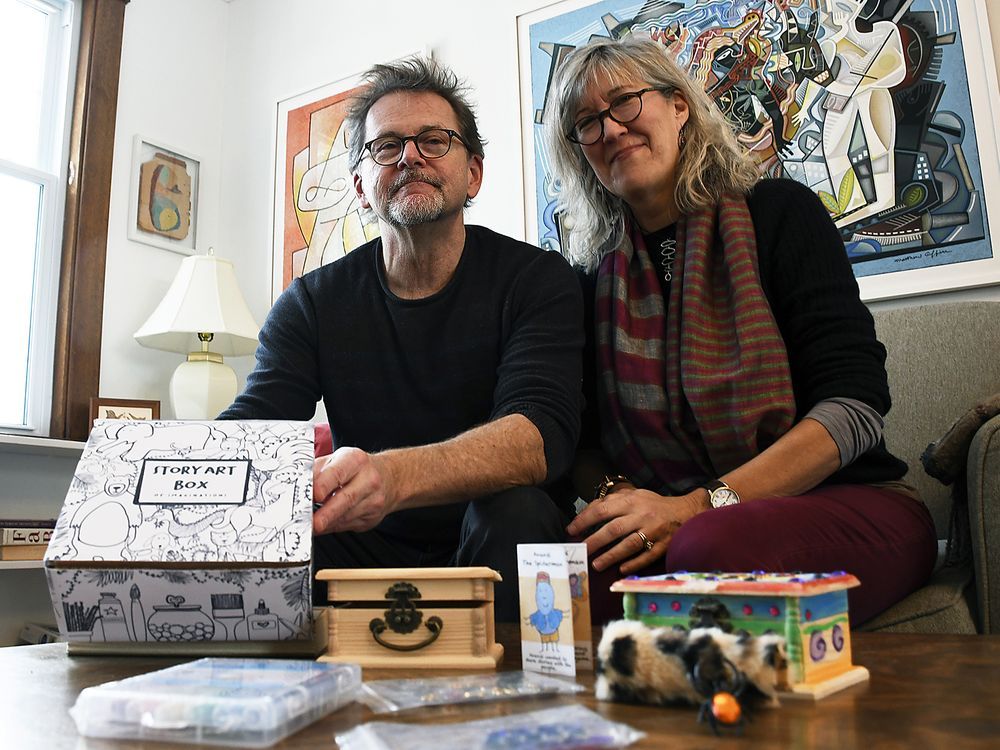 Content of the article
For a pair of Ridgetown and Windsor businesses, creativity comes from inside the box.
Advertising
This ad has not loaded yet, but your article continues below.
Content of the article
StoryValues, Inc. and The ArtLab provide a way for children to learn a new story and create an art project that will help them tell the story to family members. The StoryArt Box of Imagination, as it's called, will be delivered monthly to subscribed families and will include art supplies, a QR code to watch videos, and story cards to tell the stories.
Matthew Giffin and Cheryl Thornton of Ridgetown-based StoryValues ​​worked with Sam Walker at The ArtLab in Windsor last summer for weekly in-person sessions that combined storytelling with art projects.
Giffin said after about four sessions, they started thinking about how they could "bottle" this idea. He said they basically offered a TV show aimed at three to nine-year-olds with material sent to each viewer's home.
"There's music and graphics and Cheryl tells the story," said Giffin, who was artistic director for CBC. "Then we throw it to Sam, who demonstrates how to use the materials in the box. Right there is the show, and the kids have the box.
The stories are based on folklores and myths, some dating back to ancient civilizations. Thornton said the first story was fitting because it was about the West African character Anansi, who brings stories to the world.
"After a year, they (the children) will have 12 story boxes that they can use to tell the stories," Thornton said. "They're building their literacy library and their folk chops."
Advertising
This ad has not loaded yet, but your article continues below.
Content of the article
Giffin and Thornton founded StoryValues ​​in 2007 while living in Toronto and worked with schools in the Greater Toronto Area to share these folk tales through Thornton's performances and Giffin's original story-related songs.
They moved to Ridgetown in 2019 and continued their work with Greater Toronto schools before moving to an online format during the pandemic.
Thornton said they still give the kids homework to tell the story. She said combining the literacy component with these art projects has been "really magical" as children will now have a prop to tell each story.
Walker said she draws inspiration from stories and uses her practices "to bridge the gap between storytelling and creativity."
With one of the stories – The Runaway Pancake, based on a Norwegian folk tale – children will make their own pancake with air-dried clay.
"We use fine motor skills to roll up the clay and flatten it," Walker said. "We use different things like a shaker…and other fine motor tools to create something you can use to tell the story you just learned."
Walker said while in-person learning is best, these story and art boxes offer something hands-on to go along with the virtual component. She said she also thought about TV shows she grew up with featuring Mr. Dressup or Fred Penner while they were working on this initiative.
"There was an artistic component. It was my favorite thing and I always wished I had the supplies to do what he (Penner) did on the show," she said. "I hope to give the children the same experience that I would have liked to have."
Advertising
This ad has not loaded yet, but your article continues below.
Content of the article
Thornton said something like this could only have happened during the pandemic, as they only had brief windows for in-person performances. She said they hope to eventually return to in-person sessions with ArtLab and also work with schools from Windsor to Chatham-Kent.
"It helps to be a small company because you can see the ball coming at you and then you can just move that way, which we've done so many times over the years," Giffin said.
"There are so many businesses struggling – and all businesses are struggling now – but if you can actually find the opportunity in this challenge, then that's a good message to get across."
Information about The StoryArt Box is available at www.storyartbox.com.