'It took a whole tribe to raise me' | Editorials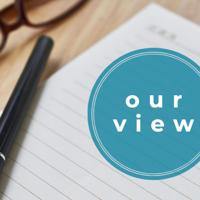 New Mexico can provide support for Indigenous families and their children this legislative session — possibly in no time, the Supreme Court says.
Currently, federal law requires that before Indigenous children can be removed from their families, the tribe must be brought into the discussion. This is to ensure that children are not summarily removed from their families and cultures, as has happened for decades. For the tribesmen, the theft – and it often was – of indigenous babies and children was a new kind of genocide, decimating the culture as children were brought up without tradition or language.
According to the National Indian Child Welfare Association, at any given time, 25-35% of all indigenous children were removed, with 85% of them placed outside their families and communities. This happened even when willing and able parents could care for the children.
Thus, in 1978, the Indian Child Welfare Act was enacted into federal law "to protect the best interests of Indian children and to promote the stability and security of Indian tribes and families."
However, enforcement has often been weak, and an ongoing lawsuit could lead to the Supreme Court declaring the law unconstitutional. Already, the 5th Circuit Court of Appeals has ruled parts of India's Child Welfare Act unconstitutional. As a result, both parties to the case – Brackeen v. Haaland – have asked the Supreme Court to hear the case, which revolves around a 10-month-old Navajo boy and an Anglo couple's attempt to adopt him. A decision on whether the Supreme Court will take up the case is expected soon.
Texas, Indiana, Louisiana and individual plaintiffs allege the federal law violates the Constitution's prohibition on racially discriminatory laws. The Supreme Court has ruled that traditional interpretations of the Equal Protection Act do not invalidate laws passed to benefit tribal members and tribes — those laws are not race-based, in other words. But a Supreme Court can – and has – changed its mind before.
This uncertainty is why the legislature must pass the Indian Family Protection Act, which will provide support under state law to children, families and their tribes. The legislation, House Bill 135, would provide the Department for Children, Youth and Families with guidance on what to do if the government were to intervene in a family setting to protect an Indigenous child.
Tribes or pueblos would be notified if any of their children are at risk, and if removal was deemed necessary, the state would work with the tribal community for placement – ​​extended family, friends, or native foster family.
Rep. Georgene Louis, D-Albuquerque, is sponsoring the bill in the House, where it passed late Saturday and now goes to the Senate. Louis, a lawyer and Acoma Pueblo member, sponsored similar legislation in 2021.
Governor Michelle Lujan Grisham placed the measure on the short-session call, acknowledging that the right of tribal communities to protect children remains in jeopardy. It was much the same thinking that led the legislature to repeal a law that essentially banned abortion — to act before the Supreme Court did.
Former Pojoaque Pueblo Governor Joseph Talachy, who testified last year in favor of similar legislation, made his case from personal experience. Born in 1981 to a single Pueblo mother far from New Mexico, he was adopted back home – Pojoaque Pueblo – because social workers contacted his tribe as required by Indian child welfare law.
Four older siblings weren't so lucky; Talachy is still looking for them.
Talachy spoke of a 4-year-old with the cognitive ability of a 2-year-old after a first life in foster homes and orphanages. Being embraced by his family and community changed his life. Today he is a successful tribal leader, business owner, husband and father: 'It took a whole tribe to raise me'
All Aboriginal children need such support. The Indian Family Protection Act is designed to ensure that they get it.