10 Best Shudder Documentaries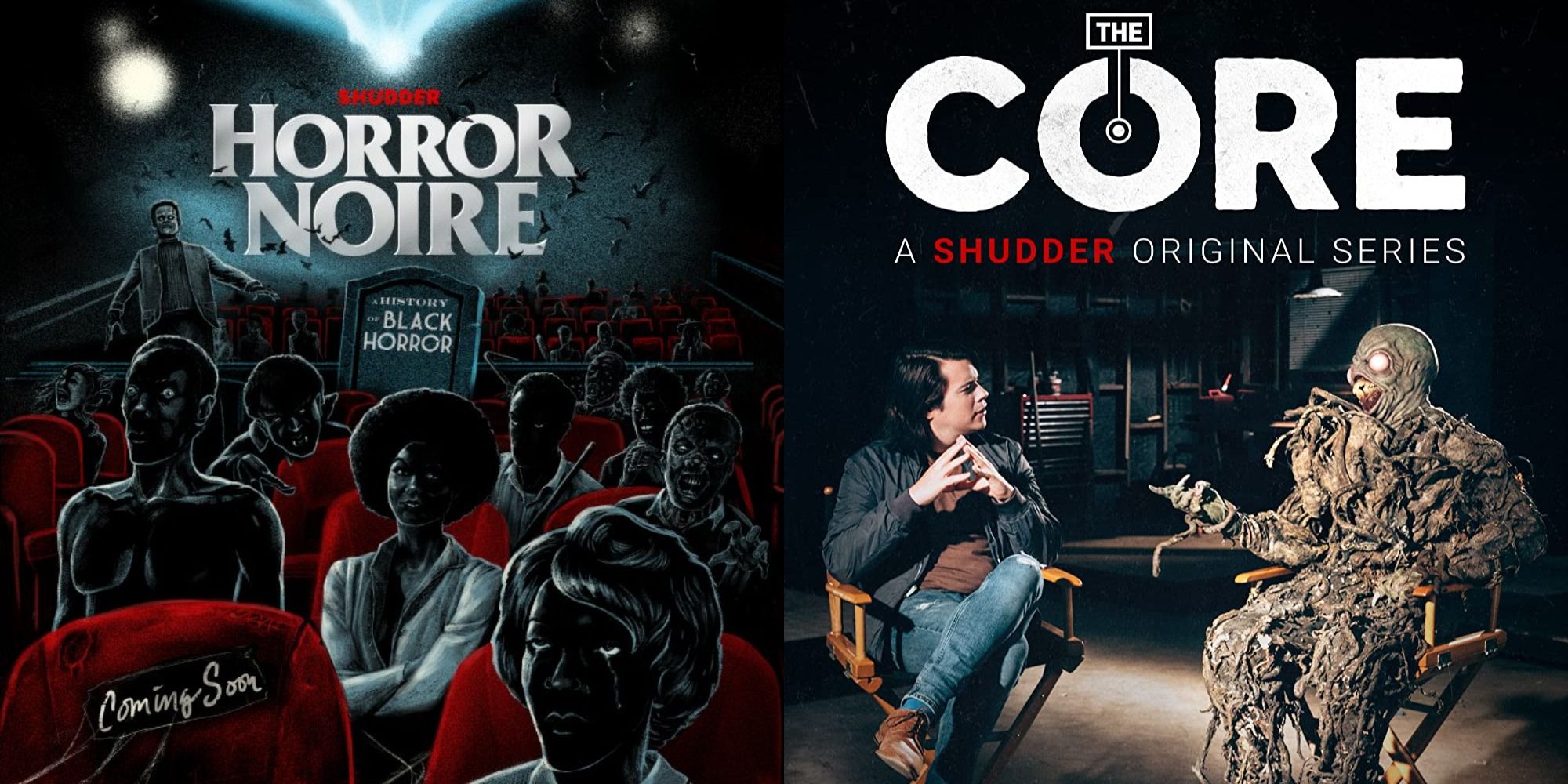 Horror streaming service, Shudder, offers more than scary movies and series. Subscribers who like a little more to put in their mouths are spoiled by the growing offer of documentaries available on the site.
Related: The 10 Best Original Horror Movies On Shudder
From getting horror history insights from Eli Roth and Shudder curator Sam Zimmermann, to unmasking some of the genre's most famous monsters and the spirits that have created, or unearth the myths and legends of Hollywood, there is something for seasoned amateurs like fresh meats.
Thrill Guides (2019)
Shudder Senior Curator Sam Zimmerman walks subscribers through the history of horror's various subgenres in this five-part series. Zimmermann covers all the expected tropes such as haunted houses, child killers, revenge, and slashers, but also dips his toes into the Giallo subgenre that viewers may not be as familiar with.
Although not as fleshed out as its counterparts such as Eli Roth's Horror Story, the bite-sized installments provide a great little guide when you're stuck for something to watch. Five minutes long, each episode is a small window into a subgenre that subscribers can step through.
The Core (2003)
While not strictly a documentary, this talk show deserves mention for its dissection of the best minds in the horror world. Hosted by Mickey Keating, the series examines the techniques and on-screen effects used to achieve the most authentic scares.
The core is casual yet practical. Keating chats with his guests in unconventional talk show settings, like chatting on a bed with Steven Ellison about his controversial film debut Kuso, before making fake vomit together under the direction of special effects guru Jim Ojala. It certainly lives up to its reputation, with Shudder touting it as a show that "opens up the traditional talk show and plays with its guts."
Leap of Faith: William Friedkin on The Exorcist (2019)
Director Alexandre Philippe is renowned for his admiration for the filmmaking process and those who contribute to the making of a film. So it only makes sense that he would turn to one of horror's greatest filmmakers to tell viewers about the process of making one of the most famous films in the genre's history.
Related: 10 Ways The Exorcist Still Holds On Today
Generally, the documentary is praised by fans of The Exorcist for offering insight into its creator, yet criticized for its narrow scope, regarding both the creation of the film and the career of its director. Despite this, for viewers unfamiliar with the film, it acts as a gateway to Friedkin and his horror classic (although there are spoilers, of course!).
Birth of the Living Dead (2013)
George Romero, father of the modern day zombie, talks to viewers about the creation and legacy of his famous film night of the living dead. Director Rob Kuhns also interviews a range of authors, critics and filmmakers who share their views on the cultural significance of the feature film and its impact on horror and the zombie apocalypse subgenre.
The film is a touching tribute to the legendary director and is widely praised by critics, but the general consensus is that there's a lot more room for exploration. Indeed, any further installments on Romero's career, or even just his catalog of zombies, would really help flesh out the man behind the monsters.
Boris Karloff: The Man Behind the Monster (2021)
Thomas Hamilton directs this account of the life and career of acclaimed horror actor Boris Karloff. He is best known for his portrayal of the monster in Frankensteinbut this documentary film erases the familiar green makeup to re-examine the man behind.
The documentary material has been researched and compiled by co-writer and producer Ron MacCloskey over 23 years and features interviews with notable names such as Guillermo del Toro, Joe Dante and Ron Perlman, among others, making it a narrative rich. of Karloff's story.
Woodlands Dark And Days Bewitched: A Folk Horror Story (2021)
This in-depth look at the Folk Horror subgenre is just over three hours long. Since Witch Seeker General for Midsommar, this detailed documentary leaves nothing to chance. Although it might look daunting from the outside, the film is structured like a fairy tale book that breaks the content up into complete chunks.
Experts offer their knowledge for a deepening of the subject. Although a small slot, it's worth watching for established fans and those interested in learning more about the relationship between folk tales, lore and the evolution of horror. .
Behind the Monsters (2021)
The actors behind some of the horror genre's most famous monsters are unmasked in this six-part series. From Michael Myers to Pinhead, each episode delves into the story, creation and development of each character, with interviews from fans, critics, makeup artists and of course the actors themselves.
Fans will likely be familiar with the stories told (like the Myers mask made from a William Shatner mask), but the storytelling is as enjoyable as rewatching the movies themselves. Having premiered in 2021, subscribers are already clamoring for a second season. With countless creeps still available for discussion, there's certainly plenty for producers to play around with.
Cursed Movies (2020)
Now in its second season, cursed movies is a series that explores the most notorious myths and legends surrounding Hollywood's most infamous movies, such as The Exorcist, the omen, and Fighting spirit. Although horror movies are the main topic of discussion, the series also delves into the darker elements of seemingly innocent films.
Related: Every Movie Featured In Cursed Films Season 2 (And Which "Curses" Can Be Discussed)
Season 2 opens with an episode on The Wizard of Oz, responding to rumors of drunken munchkins, toxic makeup, and on-set suicide. The scope and uniqueness of the series speaks to its potential longevity, with a wealth of material to be unearthed by a range of familiar faces within the industry.
Horror Noire: A Black Horror Story (2019)
This documentary film examines the relationship between black history and the evolution of horror films. It is based on the book Horror Noire: Blacks in American Horror Films from the 1890s to the Present by Robin R. Means Coleman, in which the author traces the history of darkness in horror both on screen and behind the camera.
It features interviews with key figures including Coleman, Keith David, Tony Todd, Rachel True, Jordan Peele and Tananarive Due. Important themes are covered, ranging from racist portrayal and the lack of black actors in films in the 1930s and 1950s to the later emergence of blaxploitation and symbolism. It draws attention to conversations about black representation in mainstream horror that all creators and consumers should listen to.
AMC Visionaries: The Eli Roth Horror Story (2018)
Modern horror legend Eli Roth brings together his famous friends and contemporaries for in-depth discussions of horror history. These guests include Greg Nicotero, Edgar Wright, and Quentin Tarantino, among many others, who express their love for the genre over three seasons.
Each episode explores a different genre theme or trope, including zombies, slashers, vampires, and ghosts. More recently, season three is getting creative as the main topics available begin to thin out. For example, episode two dives deep into "infections" and how the pandemic has impacted our outlook on these films. It's a must watch for hardcore horror fanatics and a complete guide for newcomers to the genre.
Next: 10 Thriller Movies Shudder Subscribers Must Watch
Justice League Actor Explains Darkseid's Plot Hole
About the Author